Car Air Filter Replacement & Car AC Filter Replacement Services
The air filter is a kind of dry paper or foam based air filter that is placed inside the air box on either side of the engine which helps in removing the dirt, debris or other dust particles from entering the interiors of the car and providing you a fresh air inside the car. Moreover, just imagine yourself driving a car without AC and dump smell around the interior. It is much more pathetic to experience than actually sounds. Servicing the car air filter replacement needs expertise and years of experience which is available with Stop & Go technicians.
Our technicians are well versed all types, makes and models of car air filter replacement and servicing. We have well trained staff, certified technicians and mechanics who can provide you complete check-up of the car. We have advance equipment and years of expertise in repairing, maintaining and servicing different types of air filters. Air filters also come with limited time span and if it needs replacement or not, it can be decided by only those who have strong knowledge and experience.
If you are not aware of the technicalities of the air filter replacement then you can check for the below signs:
Reduction in the fuel economy.
Performance of the engine performance is drastically reduced.
Engine running rough.
At Arabian Star, we understand the importance of regular maintenance for your car. A car air filter is responsible for trapping dirt, dust, and other contaminants from entering the engine, and when it becomes clogged, it can negatively affect the performance and fuel efficiency of your vehicle.
The car air filter is typically located in the air intake system of your car, and it is easy to check if it needs to be replaced. Simply pop open the hood and locate the air filter box, which is usually a black plastic or metal container with a lid. Take off the lid and inspect the filter. If it is visibly dirty or clogged with debris, it's time to replace it.
It's recommended to do Air Filter Replacement every 12,000 to 15,000 miles or at least once a year, whichever comes first. However, if you regularly drive on dirt roads or in heavy traffic, you may need to do your car battery replacement or car air filter more frequently.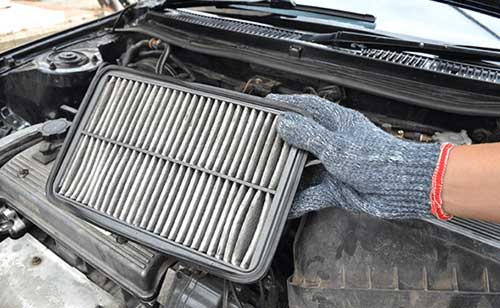 At Arabian Star, we use only high-quality car air filters from trusted manufacturers that are designed to provide optimal airflow to your engine. Our team of experienced technicians will make sure to replace the filter with the correct one for your make and model of vehicle. We will also inspect the rest of your car's air intake system to make sure there are no other issues that could affect the performance of your vehicle.
Regular Car Ac Filter Replacement can also help to improve your vehicle's fuel efficiency, increase horsepower and acceleration, and extend the life of your engine. It's a small investment that can pay off in the long run by keeping your car running smoothly and efficiently.
So, next time you visit us at Arabian Star for your regular maintenance don't forget to ask about your car ac filter replacement. Our team will be happy to take care of it for you and keep your vehicle running at its best. Arabian Star Tyres is a service-oriented repair and auto services specialist located in Abu Dhabi where customers can enjoy quick, efficient, and value-for-money service provided by highly skilled and knowledgeable technicians.
Our technicians will check the car engine, ensure the air filter is properly fit, whether it needs any repair or replaced, and use branded air filter parts to give you the best driving experience. All our customers trust us because of the high quality customer service and best in class products that we use. We test the vehicle serviced by our technicians and it goes through a complete quality check.
So, for more information regarding car air filter or car ac filter replacement or car brake repairing services, please contact us at: +971 25551541
Schedule Your
Appointment

Today
AUTO SERVICE & REPAIRING SPECIALIST IN ABU DHABI