One of the preliminary criteria while purchasing a tyre is to pick amongst the best tyre shops in Abu Dhabi, with satisfactory experience in the domain and a good understanding of their product. In addition, they should be able to fulfill customer necessities, respond to their needs, and offer recommendations based on weather situations to decrease wear and tear.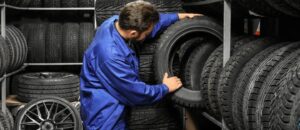 Furthermore, it allows the client to pick from the various alternatives that are best fitted for them from among the numerous tyre retailers in the United Arab Emirates.
Experience in The Industry
Another crucial factor to be kept in mind is the overall knowledge of the vendor in the tire Business. Therefore, you should select a merchant with a wealth of experience at the team and senior administration levels. Only such agents could offer you guidance and ensure the quality and safety of cars.
Expansive Range of Tires
The car tyre Abu Dhabi retailer that you regard should stock a broad range of brands to pick from. It allows you to choose the proper tire based on your automobile type to suit your necessity. It also saves you from a visit to multiple other vendors in search of the correct product for you.
Good Customer Service
The assistance should be offered on a 24/7/365 basis so that there is no waiting time. By delivering world-class services and providing some of the finest quality tyres in demand, the retailer will be able to sustain excellent customer connections. 
It would boost clients to keep coming back for more. Good customer service is instrumental in the development and success of the business as well.
Online Presence
Today, presenting customers with the choice to purchase tires online is crucial. It helps you select the best tyre for your car and includes plenty of free bonuses like fitting and inspection. All this would be feasible without having to linger in a queue for a long duration when service comes at the convenience of your residence.
Offering the Best Price
There is fierce competition regarding presenting the best car tyre price in UAE to clients. As customers, we are bound to glance for affordable costs with the best quality and execution. 
Arabian Star Tyre delivers tyre service across Abu Dhabi, and our unit is readily available to help you anytime – anywhere. Therefore, if you are searching for reliable tyre dealers to purchase your following tyres, look no further than Arabian Star!